Fuel Oil Transfer Vane Pump Diesel Biodiesel Kerosene 12v/110v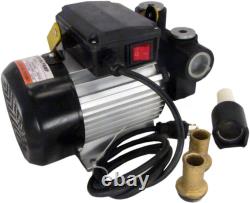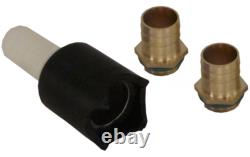 40, 60 & 80 Series Light Oil Pumps. Not for use with vegetable oil and other such heavy oils.
These pumps are designed for light oil pumping applications such as diesel fuel, biodiesel and kerosene. These pumps cannot handle thicker oils such as vegetable oil, transmission fluid or motor oil. Fit with Viton seals, they are 100% biodiesel compatible. Use this pump for fueling vehicles, transfering fluids, filtering fluids & more. The primary function of this pump is for fueling vehicles with an automatic nozzle.
The pump will build up pressure to 44 psi max and then be unable to pump anymore. No bypass is needed as the pump will not damage itself when the oil flow is stopped (usually by a nozzel) The pump should not be left on for a long period of time when restricted, as it will wear down the vanes, but it is ok for normal usage. Included with this pump are 2 straight hose barb fittings which use a viton oring to form a proper seal with the pump. Although the fittings on the pump are straight thread, most NPT fittings can be made to fit when using yellow teflon tape.

---