Sewn Industrial Filter Sock Bags Water Liquid Biodiesel WVO Oil Dust Fuel Diesel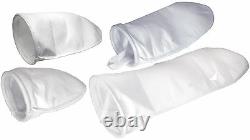 Use for Filtering Any Liquid. Need large quantities of bags? Welded Filter Bags in Polyester/Stainless Steel. Stainless Steel Filter Bag Housing: Size1. Information on Different Types of Filter bags.
General Introduction to Liquid Filtration. All filtration and screening involves limiting the passage of various sized solids by means of a barrier or fabric or media. This is done in two ways, by depth filtration using graded density material called felt or by surface filtration using filament woven material called mesh.
Wovens, in turn have two basic varieties: multifilament and monofilament. In any application, variables such as flow volume, solids loading, shape and density of contaminants and other factors make this an inexact science. A general description of separation methods of media is helpful.
This is a filtration media made from a matrix of small fibers. One side is heat bonded to provide a uniform surface free of fiber loss. Contaminant particles are contained within the media by inpingment and entrapment. "Porosity" is defined by nominal micron ratings (1, 5,10,25,50,100,200) indicating the largest particle that can pass through, in general, and reflecting an increase in the density. Easy disposal of solids in bag.
This is a filter media having a "Teflon" microporous membrane applied to a base of polyester felt. This results in a nonstick surface which allows for a contaminant "cake" to build and slough off or be removed by cleaning. PEMU - MULTIFILAMENT MESH FABRIC (POLYESTER). This is a two-dimensional square-woven fabric used for light filtration and general purpose screening. Consistently woven using a given number of threads per inch, its filaments are comprised of small fibers, twisted into threads. It is generally made of polyester polymer.
"Porosity" is defined in broad divisions of hole size, measured in microns i. 100, 150, 250, 400, 600, 800. Can be used to prescreen. Not as strong as NMO. NMO - MONOFILAMENT MESH (NYLON).
A two-dimensional square of woven mesh fabric used for lower solids or higher accuracy screening and classification of solids. Made from a smooth uniform, one piece extruded thread woven into a screen with high accuracy and consistency. "Porosity" is defined by a hole size in microns, with greater variety than multifilaments i. 25, 50, 75, 100, 120, 150, 175, 200, 250, 300, 400, 500, 600, 800. Chemical Resistivities and Temperature Ratings. Working Fluid Temp Limits (°F). This item is in the category "Home & Garden\Other Home & Garden".
The seller is "dudadiesel" and is located in this country: US. This item can be shipped worldwide.
Filter Material: Singed Polyester Felt Heat Treated PE PES Fabric
Bag Size: Size#1 - 7\
Micron Rating: 100 Micron/100um
Lot Size / Qty: Qty/Lot of 50
Brand: Duda Energy

---