VEVOR 30 Gallon Gas Caddy Fuel Diesel Oil Transfer Tank, 4 Wheels Portable Pump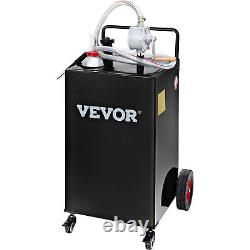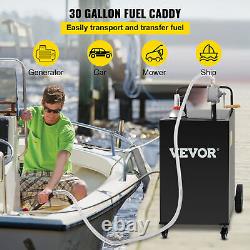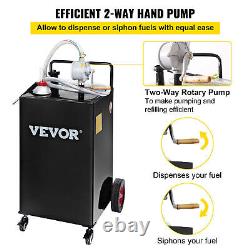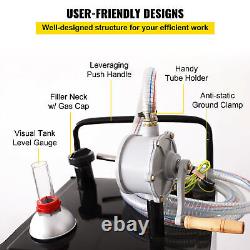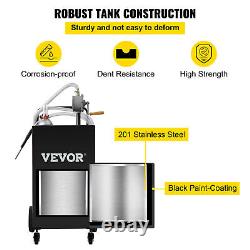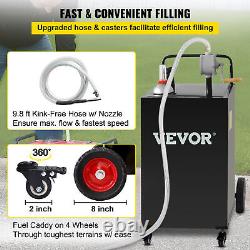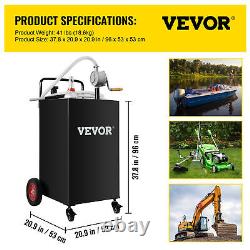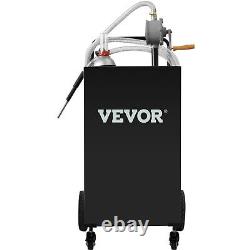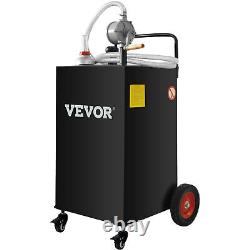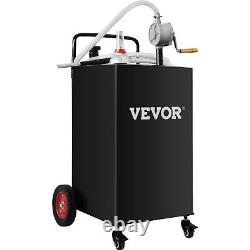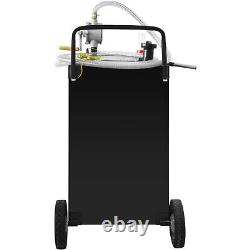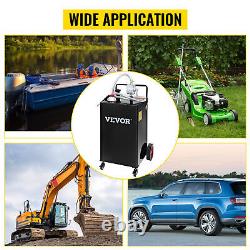 VEVOR is a leading brand that specializes in equipment and tools. Along with thousands of motivated employees, VEVOR is dedicated to providing our customers with tough equipment & tools at incredibly low prices. Today, VEVOR has occupied markets of more than 200 countries with 10 million plus global members. Rotary Manuel Pump & Move It Around & Sturdy Construction.
Large 30 Gallon Fuel Tank. No matter what you're refueling, our portable gas tank is designed to handle the job. The versatile caddy is approved to safely store and dispense up to 30 gallons of gasoline, diesel, and kerosene fuels. The efficient bi-directional pump dispenses or siphons fuel by changing the rotation of the crank handle, allowing you to eliminate overfilling tanks by pulling excess gas or diesel back into the caddy. The gas caddy has a premium structure. It includes 8" large wheels and 2" small wheels, an anti-static ground clamp, filler neck with gas cap, handy tube holder, and an easy leverage push handle. All these designs will support efficient and secure work. The 30 gallon diesel tank is made of high-quality 201 stainless steel material, offering extreme resistance against mechanical damage and corrosion. Such premium material will ensure long-time use. Secure & Efficient to Fill. 9.8 FT automotive-grade rubber hose facilitates efficient and safe fueling. Just open the clip and let it flow. You can quickly fill your fuel tank in minutes. The portable gas tank is designed to transport diesel or gasoline fuel to your job site. Model: 30 Gallon Fuel Caddy. Tank Size: 37.8 x 20.9 x 20.9 in/ 96 x 53 x 53 cm. Fuel Type: Gasoline, Diesel, Kerosene.
Pump Type: Two Way Rotary Pump. Hose Length: 9.8 ft/ 3 m. Big Tire Diameter: 8 in/ 20.3 cm. Small Tire Diameter: 2 in/ 5.1 cm. High Volume 30 Gallon Fuel Caddy: The 30-gallon fuel caddy allows for easy maneuverability, letting you bring the fuel directly to where you need it, making dispensing quick and painless.
Our fuel storage tank can securely hold gasoline, kerosene, or diesel. It's the perfect choice for auto repair, farms, lawns and gardens, marine uses and more. Two Way Rotary Pump: Bi-directional hand rotary pump allows you to dispense or siphon fuels with ease, making pumping and refilling efficient by reversing the cranking direction. You can fill gas storage tanks faster without working up a sweat while safely transferring fuel. Transport Effortlessly & Easy to Use: The anti-static ground clamp can prevent static discharges and eliminate static electricity. An accurate fill gauge lets you quickly determine your fuel level at a glance, reducing the risk of overflows. Heavy-duty 8" wheels and 2" wheels transport your caddy through the toughest terrains with ease. Filler neck with gas cap, handy tube holder, and leveraging push handle are also equipped.
Speedy & Convenient Refueling: The 9.8 ft kink-free hose with nozzle ensures maximum flow and the fastest speed. The wide diameter neck provides a larger opening for refueling without spilling or wasting fuel.
And a hose hanger is provided for your hose's easy storage. This high-quality material ensures long service life.

---